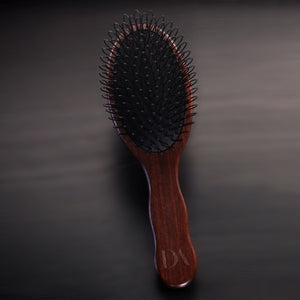 Gentle, detangling brush for fine, thinning hair and sensitive scalps. Innovative loop design bristles won't aggravate the scalp. Suitable for fine & thinning hair. Best used on dry hair. For longer length hair, detangle in small sections, starting at the ends and gently working up through mid-shaft to roots and scalp.
Not suitable for textured hair or thicker hair types. Suitable for fine & thinning hair.
Hand-crafted Kotibe wood. Heat resistant nylon pins. Vegan Friendly.
Artisan Crafted in Italy.
All sales are final.
You will be contacted the following business day (Monday - Friday) if there are any delays with your order. Orders will be shipped within 48 hours of placement (Monday – Friday) despite shipping method.
Inspired by the love of detailed and delicate craftsmanship, each Kotibe wood brush is sanded into shape by hand in Italy in a century old factory. From the finest, pure boar bristles to natural rubber cushions, the art of creating each brush produces a unique, beautiful and durable tool that stands the test of time.