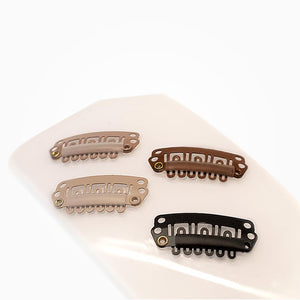 Cap clips work like small combs to secure the hair piece to your biological hair and keep the wig or topper from slipping out of place.
Daniel Alain offers Stay Put Clips in Black, Dark Brown, Light Brown and Beige to blend seamlessly in with your piece and can be easily sewn in. Clip is individually sold.
The pressure sensitive easy to bend metal finish makes securing the clips a snap and are gentle on sensitive scalps and fine/thinning hair.
All sales are final.
You will be contacted the following business day (Monday - Friday) if there are any delays with your order. Orders will be shipped within 48 hours of placement (Monday – Friday) despite shipping method.
Buyer Beware
The different-colored clips are displayed in groups of 4, so I ordered 2 packs at what I assumed to be $3 each. My bad for not reading the fine print. The company charged $3 *per clip*--an unbelievable mark-up for a 10-cent item! Better to order from Amazon where you can an entire pack of 100 for $8.99!
Sorry to hear you are dissatisfied with the clips. These are the same clips that we use on our wigs and toppers, design for the lightweight comfortable wear that won't pull from your biological hair. They are hypoallergenic, nickel-free, and copper-free. You can go through TSA without any problem when you travel. We cannot speak on Amazon clips but ours have been tried and tested for high performance.
Bobbie,
Thank you very much for your feedback! We greatly appreciate it!
Xoxo, The Daniel Alain Team