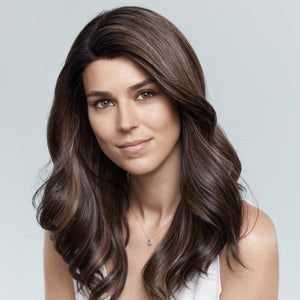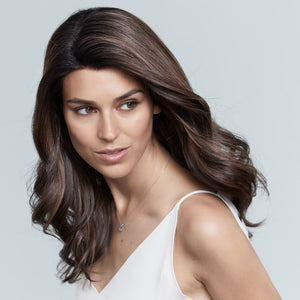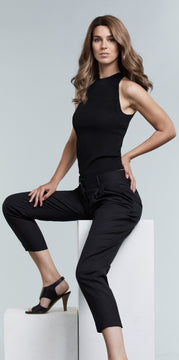 Model in white top wearing Mocha Latte - 3030, 14 LY
Model in black top wearing Caramel Latte - 5030, 14 LY
Try for 7 Days Commitment-Free. Return for a full refund or exchange so long as the lace is NOT cut and the piece is in it's original condition. Terms

All orders placed after noon PDT will be processed the following business day despite the shipping method. Orders placed on Saturday, Sunday or on a national holiday will be processed the following business day.
7-day free trial.  One complimentary exchange/return will be honored per customer. Additional exchanges or returns will incur a 10% restocking fee to cover fees, shipping and handling.

Delays: You will be contacted the following business day (Monday - Friday) if there are any delays with your order.
About René
Our René, World Select Hair wig offers combined beauty and practicality, making for the perfect entry-level Daniel Alain FOLLEA wig. René is an affordable natural wig offering attainable luxury with the mark of impeccable FOLLEA craftsmanship. Enjoy natural volume and fluidity you can only get from high-quality natural wigs from Daniel Alain.
Human hair provides continuity to match your skin tone and style, offering you security and self-assurance that your hair is a flawless extension of you. Like all of our legendary wigs, René offers supreme coverage and comes in an array of fully customizable colors and lengths. If you're ready to embrace new hair that fills you with confidence, René is equipped to help you transition fabulously.
Transform Your Look Instantly
*Comb and wig grip are optional.
Easy as 1-2-3
Discover Color, Length, & Cap Size
Then add your selection to the cart above
Step 1 - Find Your Color
Espresso 1010
Beautiful rich dark brown base with no highlights or lowlights and no rooting.
Café 2040
Dark coffee bean brown base with subtle warm highlights and 1" slight dark brown root.
Caffeine 2060
Medium chocolate brown base with no highlights or lowlights and no root.
Mocha Latte 3030
Dark brown base with toffee highlights.
1.5 inch dark brown root smudge.
Tea 3050
Warm chestnut brown base with subtle dark brown lowlights and no root.
Latte 3060
Warm chestnut brown base with aan ever so slight sun-kissed touch of gold.
Best purchase
Best wig purchase I have ever made!
Dear Lauren,
Congratulations on your new piece! Thank you so much for your feedback, it is greatly appreciated!
We want to personally invite you to join our online #Folleafriend community on Instagram. We can't wait to see your new hair debut! Please tag us @Follea or #Follea
Xoxo, The Daniel Alain Team
The wig is beautiful! I just returned from out of the country and opened it. Love the color and quality but want yo exchange for an 18" if possible.
Seeing me
Tracy at Daniel Alain helped me find my perfect follea wig. I could not feel more beautiful and me again when I put it on that day and everyday since. She has been helpful since and I appreciate the time she took with me on a Saturday when I came from out of town. I got a 10in Rene and a 12in style and both have beautiful highlights, fit perfect, even stood up to a wind storm in Arizona. Could not be happier. Thank you Tracy
Great product, awesome customer support!!
I have never written a review before but my experience is absolutely noteworthy!
The Rene is a beautiful wig with a very natural look. It is by far the highest quality that I've tried. That is a great start to the experience I had with this company. Stylist consultant Tracy Romo is fabulous! She patiently walked me through the entire process to make sure that I received the best fit and style, for me. I cannot say enough about how much she helped me and she did it professionally and with a kind heart. A good product is such an important step to success, but the greatest asset to any business are the people. Tracy is a huge asset, to the company and the product that she represents. Thank you Tracy!
Cecelia,
We are extremely proud to hear Tracy was a knowledgeable, trusted and valued asset to your experience, as well as our company. Tracy will continue to be with you on your hair journey. The quality, look and feel of our pieces means a great deal to us, thank you for sharing your new found love for our wigs. It is our goal and mission to help women all over the world feel beautiful, confident, and understood. Thank you again for trusting us during your hair loss journey!
We invite you to join our @Follea community on Instagram, to learn best practices for your new Follea.
Thank you very much!
Love,
The Daniel Alain Team
My first wig!
My first wig purchase and I could not be happier! I ordered the Rene 10-inch in the color Espresso. Tracy Romo was very knowledgeable and helpful throughout the entire process. I'm still working up the nerve to go out in public with my new hair but definitely feel more confident now that I have this beautiful wig! Thank you!!
Sandra,
Thank you so much for sharing your positive experience with Tracy. It warms our hearts to know you choose us to help you during your hair journey, as well as hearing about the confidence you are regaining in the process.
Thank you again, Xoxo The Daniel Alain Team
FOLLEA designs and creates 100% hand tied wigs using only the highest grades of hair and the gentlest process attainable. Discover technology blended seamlessly with artistry and join us in redefining luxury in extraordinary 100% lace front human hair wigs. FOLLEA offers unrivaled longevity and craftsmanship in all wigs. For the finest handmade wigs, you have but one clear choice, FOLLEA.
Buy affordable human Hair Wigs by FOLLEA.