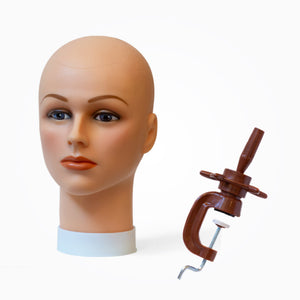 Style & Stand Mannequin Head with Clamp provides security and control when styling.
All sales are final.
You will be contacted the following business day (Monday - Friday) if there are any delays with your order. Orders will be shipped within 48 hours of placement (Monday – Friday) despite shipping method.
Too expensive for what you get
This is quite difficult to use. Quite complicated for something that is suppose to hold you hair. Not a fan.
Perfect size
Perfect size for my XS Follea wig. It has a nice weight to it to stay stable and upright if not using the clamp and has a very smooth surface to slide my piece on easily. Highly recommend.
Melanie,
We are glad to know that you like our mannequin head and that it works well for you!
Xoxo, The Daniel Alain Team