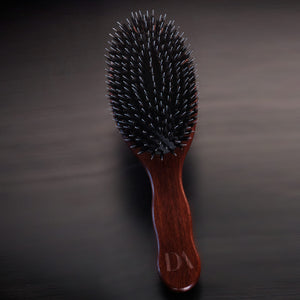 Stimulates scalp, distributes natural oils & polishes dry hair for beautiful shine and healthier-looking tresses.
Hand-crafted Kotibe wood. Pure boar & nylon bristles.
Artisan Crafted in Italy.
All sales are final.
All orders placed after noon PDT will be processed the following business day despite the shipping method. Orders placed on Saturday, Sunday or on a national holiday will be processed the following business day.
Delays: You will be contacted the following business day (Monday - Friday) if there are any delays with your order.
Inspired by the love of detailed and delicate craftsmanship, each Kotibe wood brush is sanded into shape by hand in Italy in a century old factory. From the finest, pure boar bristles to natural rubber cushions, the art of creating each brush produces a unique, beautiful and durable tool that stands the test of time.
Luxurious!
I have never had such a good brush. Always bought cheap ones.
But this is worth every penny. My hair loves it. Hair is shinier.
Dear Toni,
We are very pleased to hear your experience with our Boar & Nylon Brush. Thank you for taking the time to share your love with this very kind review!
Xoxo, The Daniel Alain Team
Nice Hairbrush
This is a nice hairbrush but definitely NOT for someone with thick hair. I've tried to use it twice to no avail.
Dear, Cheryl,
Thank you for sharing, our Boar & Nylon Brush is typically used for styling. We highly suggest using our Detangling Pin Brush for everyday brushing.
We hope this helps!
Love, The Daniel Alain Team
Excellent Brush
I use it twice a day for daily brushing to smooth my hair out and clear my hair follicles
I don't use it to blow dry, but that wasn't my reason for getting it. The boats hair is soft and makes my hair shiny
Dear Lisa,
Thank you so much for your feedback it is truly appreciated, so we are able to offer the best quality products and services to our amazing customers.
Love, The Daniel Alain Team